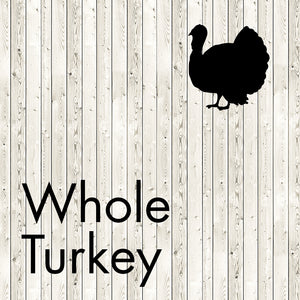 Free-Range Whole Turkey
 **Please when ordering leave us a note upon check out with which Saturday Market you would like to pick up your turkey. If picked up at the farm, which Friday would be best for pick up.

We raise Free-Range Turkeys for Thanksgiving and Christmas. Customers constantly comment on the quality of meat. The price shown is an estimate that is necessary for the website. We charge $6.50 per lb and they weigh between 11-20 lbs.
All turkeys are frozen as they are processed!
---
We Also Recommend